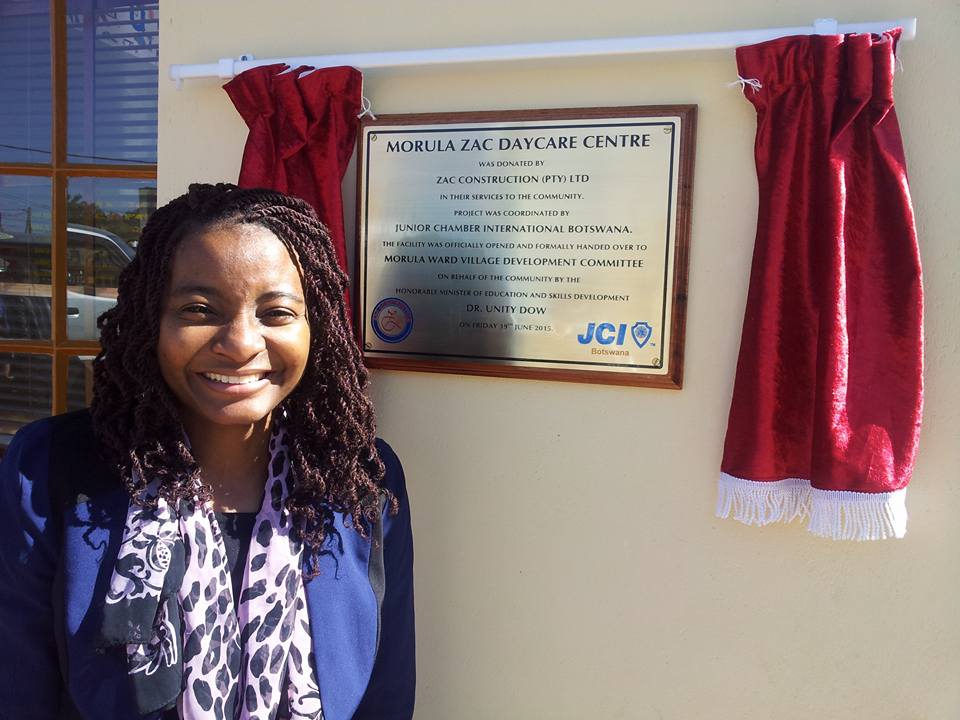 Give us a brief background about yourself
A young lady from a large family in the Kweneng Region. Graduated from the University of Cape Town with an Accounting degree.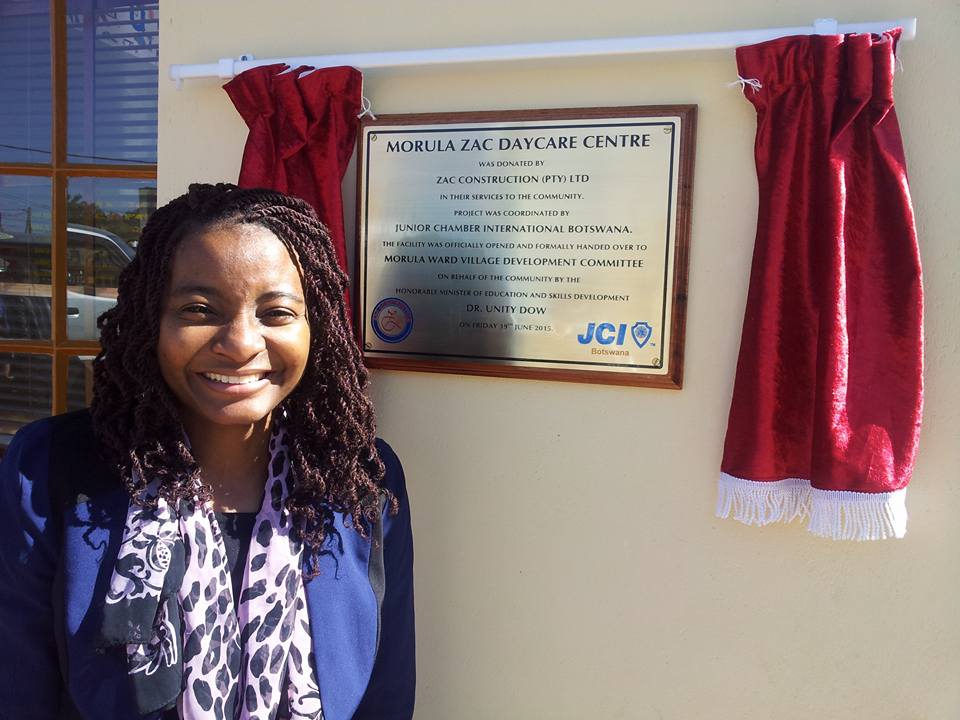 What drives you?
The will to positively contribute to my community particularly to the young people as I see so much potential. I strongly believe in personal development. For me to effect change I have to be prepared and well equipped in all ways possible.
You are part of a number of organisations. Please tell us more about that and share what your role is in each of them.
Manager of Dūcere Foundation (Botswana and Zambia) ,an Australian Foundation in partnership with the Ministry of Education and Skills Development with the vision of developing motivated and passionate learners and leaders.  I look after the foundation's stakeholders relationship and programmes including the School Improvement and Peace Centre Programmes.
Founder of Botswana Student Network Society,  working closely with students to advocate for academic excellence, career opportunities, social responsibility and leadership participation.
Board of Advisory member at Botswana Youth Portal, an initiative that aims at facilitating better access to developmental youth information and enable the youth to access global opportunities as well as enhancing young people's participation in public life and to stimulate youth activism by sharing positive stories of community development and activism in Botswana.
Toastmasters Gaborone Club Vice President Membership Officer training on public speaking and leadership development.
Mentor at The African Leadership Academy (TAWLA) as we believe at TAWLA with proper guidance and motivation young people can unleash their skills, capabilities and knowledge that can benefit others in their community.
Member of U.S. Embassy Gaborone Youth Advisory Council: The council meets to discuss topics such as youth employment, civic and political engagement, conflict resolution, women's empowerment, civilian security, and education as well as other issues resonating with the youth.
Career Development Columnist at Kutlwano Magazine
What motivated you to start Botswana student network and where do you see the organisation in 5 years time?
Passion for young people. Young people have so much potential and they are the future of the country hence the need to ensure we invest in the youth. Our Country is spending millions and billions of Pula in educating the youth and it is heartbreaking to see a lot of the students ending up studying courses that they are not passionate about hence resulting in one struggling to find jobs or becoming empowered and active citizens. Botswana Student Network Society is a fairly new organisation which was registered in January 2012 since its establishment in April 2011 with the mandate of tackling career issues ie academic excellence, leadership, social responsibility  in hope of managing the transition between secondary and tertiary and tertiary to the corporate or business world.
BSN is currently working with educational stakeholders to bring opportunities closer to the students through career guidance and motivational talks. There is so much potential for the network as everyday the team of volunteers work on ideas of how best to serve the student community despite no funding. Rome was not built in a day and we hope that after 5 years or so BSN will be able to reach all students even those in the remote areas of Botswana and stand in a better position to advocate for the student needs.
You are the 1st Motswana woman to travel to Antarctica.How do you feel about that and what did you experience there?
It feels really great to know that having the first Motswana from Botswana going to the coldest, driest and loneliest place on earth inspired a lot of young people to get out of their comfort zones to realise their dreams. I went to Antarctica with the whole nation. Thank you to Ducere Foundation and Robert Swan's 2041 company for sponsoring me for the expedition.
The expedition has the dual purpose of educating the participants in environmental issues and sustainability as well as leadership, teamwork and action. Participants explored the extraordinary and harsh Antarctic environment whilst simultaneously partaking in Robert Swan's Leadership on the Edge Program.  The unique Antarctic experience aims to build personal leadership skills, inspire change and create committed global educational and environmental ambassadors.
We had environmental awareness classes conducted by representatives from Shell. Got an opportunity to learn about the wildlife of the continent. The hardest activities that I had to do other than hiking on glaciers was polar plunging in 2 degrees Antarctic waters and camping on snow without tends- these were a sure test of endurance and showed determination. Taking part in these challenging activities was never easy, however, I made it through thanks to the constant encouragement from my great friend Sonal from India.
The expedition made me realise how vulnerable the environment is from a global perspective and how especially as individuals we have to actively take part in becoming part of the solution. Coming back home, for example I am worried about the lack of rainfall which has contributed to water shortages. I cannot entirely wait on the government to come up with solutions, as an individual I also have to ensure I play my part. All of us have to act responsibly.
What do you plan to do with what you learnt during the expedition? Any projects that we should look out for?
I make it my daily task to talk to mostly children or young people about environment awareness; be it saving water, efficient use of electricity, planting of trees, cleaning our surrounding and so forth- small acts make a big difference. To celebrate International Youth Day Ducere Foundation organised a Youth Think Tank event themed "Leadership and Governance in Relation to Environmental Issues" inviting speakers from United Nations Development Programme (UNDP) and Department of Environmental Affairs to enlighten the youth on opportunities addressing youth unemployment within the environmental sector. It is always been my intention to write a book about my experience focusing on motivation, leadership, teamwork and personal development to ensure that generations to come will also experience Antarctica through my journey. It is my wish to have more young people going to the South Pole.
What are some of the challenges that you have faced in your journey so far and how did you overcome them?
Not much hey….however I sometimes come across dream stealers. Having mentors and positive people around me helps a big time. I am very blessed to have the kind of family and friends I have, when the going gets tough their words of encouragement remind me yet again why I love doing what I do and the importance for me to keep on moving forward despite the hickups.
You're a very busy woman. What do you normally do to relax and take your mind off things?
I enjoy reading so most of the time if I want to relax I would read fiction novels or go out to movies with friends.
Do you have any role models or mentors?
YES, I have a lot… (((giggles)))…its important that an individual have someone they look up for support…. I am my own role model, It might sound silly but I admire "Lillian Nkosazana Moremi"…she is a determined hard worker and always tries her best despite the challenges that life throws at her. She is a beautiful work in progress. My mother is my other role model, such an inspiration, my number one source of motivation J. God plays a major role in my life, I am where I am because of the grace of the Lord.
I have a lot of mentors, some of my mentors that I meet regularly.; Sheila Damodarun mostly focusing on understanding myself and managing relationships. Nelson Letshwene is a great financial advisor. Primrose Oteng is such a wonderful motivator, I will always be grateful to her as well.
What advice would you like to give young people in Botswana?Any final thoughts that you would like to share?
"My Botswana. OUR Botswana."…. We are the change makers… we are all responsible for OUR Botswana. Lets stand up and contribute to the growth of our beautiful Botswana.