Jobs
Opportunities
Trending
Ministry of Nationality, Immigration and Gender Affairs Vacancy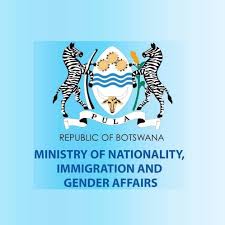 ???????: ?????????? ??? ?????????? ??????? (? ????)
REF: MNIG 4/8/2 II (19) 16 February 2021
Applications are invited from highly talented, proactive, innovative, well experienced and self-driven citizens of Botswana for the vacant position of Monitoring and Evaluation Manager tenable at the Non-Governmental Organisation Council in the Ministry of Nationality, Immigration and Gender Affairs, Gaborone.
Vacancy Circular No. 1 of 2021
VACANCY: Monitoring and Evaluation Manager (1 POST)
SALARY SCALE: D1 (P334,188- P368,544) per annum
LEAVE: 30 working days per annum
BENEFITS: i) Optional Contributory Medical Aid Scheme (NGO Council pays
50% and Employee 50%)
ii) A contract of 24 to 60 months, with gratuity at the rate of 30% payable upon expiry of contract.
QUALIFICATIONS
To be considered for appointment, applicants must have at least a Bachelor's Degree in Statistics or Social Sciences or related field. A Master's degree in a relevant field will be an added advantage. Proficient in Excel, Power Point and Word application and Knowledge in database manipulations and data analysis is a requirement.
EXEPERIENCE
Applicants should have more than 6 years experience in supporting a Monitoring and Evaluation system. Previous experience working with NGOs in the country will be an added advantage.
MAIN PURPOSE OF THE JOB
Monitoring & Evaluation Manager will be responsible for all NGO Council's Monitoring & Evaluation activities. The Monitoring and Evaluation Manager will be reporting direct to the NGOC Coordinator.
DUTIES
• Providing expertise in M&E planning and methodology
• Participating in and providing support to project design activities including development of project theories of change and strategic frameworks (Results Frameworks, Log Frames)
• Developing a Monitoring and Evaluation plan
• Helping determine performance and impact indicators and targets
• Providing support to proposal development for M&E components
• Providing monitoring and evaluation guidance and to project and programme staff and ensure all reporting requirements are met
• Implementing monitoring systems and designing monitoring tools
• Developing data collection tools
• Lead the collection and analysis of data for monthly, quarterly and annual indicators
• Contributing to institutional learning processes and tracking best practices in monitoring and evaluation
REQUIRED COMPETENCIES
Competencies
 Building and Managing Relationships
 Analytical Thinking and Visioning
 Deciding and Initiating Action
 Communicating Effectively
 Planning and Execution
 Managing Performance
 Creativity and Innovation
 Quality Service Delivery
APPLICATIONS:
Applicants should quote the reference number and the vacancy circular number and give the following details:
a. Brief summary of career with duties performed (Curriculum Vitae) including the date of first appointment, present post and the date of appointment thereto.
b. Certified copies of academic certificates, and two [2] recent work related references.
Applications from serving Public Officers should be routed through their Heads of Departments and Permanent Secretaries. Applications not so routed will not be considered.
Applications should be addressed to: Permanent Secretary, Ministry of Nationality, Immigration and Gender Affairs, Private Bag 002, Gaborone, or hand delivered to the Ministry of Nationality, Immigration and Gender Affairs, Records Management Unit, 2nd Floor, Government Enclave.
E-mailed or faxed applications will not be accepted nor considered.
IMPORTANT NOTICE: Only shortlisted applicants will be entered into correspondence with.
CLOSING DATE: 19th March 2021
For further details please contact: Ms. Keitumetse Laolang or Ms. Gladys O. Supang at the Ministry of Nationality, Immigration and Gender Affairs, Telephone No: 3611240/3611255; email [email protected]/ [email protected].