Jobs
Right to Learn is looking for dynamic and energetic Branch Manager in Gaborone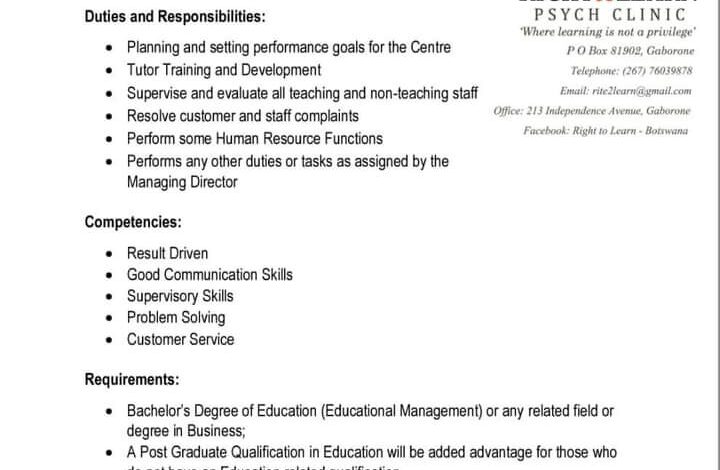 The ideal candidate:
Reports to the Managing Director, the incumbent will be responsible for overall management of the tuition centre in Gaborone.
Duties and Responsibilities:
• Planning and setting performance goals for the Centre
• Tutor Training and Development
• Supervise and evaluate all teaching and non-teaching staff
• Resolve customer and staff complaints
• Perform some Human Resource Functions
• Performs any other duties or tasks as assigned by the
Managing Director
Competencies:
• Result Driven
• Good Communication Skills
• Supervisory Skills
• Problem Solving
• Customer Service
Requirements:
• Bachelor's Degree of Education (Educational Management) or any related field or degree in Business;
• A Post Graduate Qualification in Education will be added advantage for those who do not have an Education related qualification.
CLOSING DATE: 08 January 2023
Interested candidates must email their resume and qualifications to:
olephalaaga[email protected] OR [email protected] on or before the closing date.
BW JOBS 4 GRADUATES