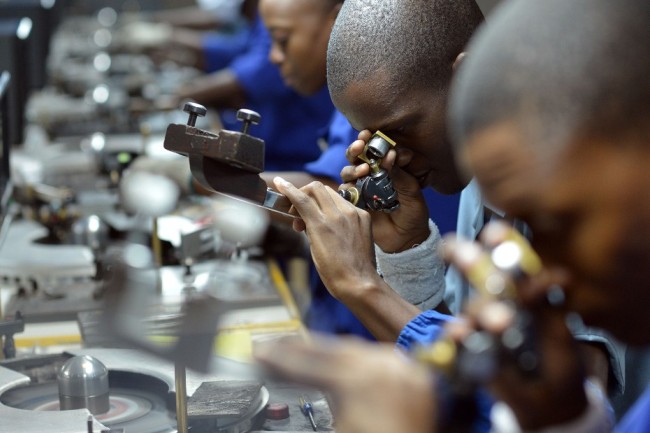 Who We Are
Signet Direct Diamond Sourcing Botswana is a Diamond Cutting, and Polishing Factory and a subsidiary of Signet Jewelers, the world's largest retailer of diamond jewelry and the world's largest specialty jewelry retailer.
Positions Open, and Experience required:
I. Department Manager – Fancy Diamond Shapes X1
Primary Job Requirements
✓ Works closely together with and assists the rough to polish manager, ensuring that production goals are met in all areas according to plan and specifications.
✓ Provides guidance to section team members/team leader(s), ensures normal production output and quality standards are maintained.
✓ Assist with production when necessary and other diamond activities, meeting the required specifications and production targets for the section.
✓ Liaise intensively with the team; anticipate problems, and suggest corrective actions.
✓ Support and implement in full the company's manufacturing practices and philosophy
✓ Takes the necessary steps to maximize the value vs. outcome of the diamond and liaises with factory leaders if questions arise.
Experience & Qualifications
• Should know how to polish Princess, Cushion, Radiant, Emerald, Assche, Oval, and Pear shapes
• Management skills, and experience in a leadership role
• Computer skills
• Excel Knowledge
• BGCSE, +5 years of diamond polishing experience with expertise in EX makes, and/or related experience relevant to the position
At SDDS Botswana we reward hard work, and foster a diverse and inclusive culture. If you meet the requirements above, please submit your application to the Human Resources Manager – SDDS Botswana, P O Box 81925, Molapo Crossing, Gaborone OR email your application clearly marked the position you are applying for to sdds-recruitment@signetjewelers.com NB: Only shortlisted candidates will be responded to.
Closing date: 10 March 2023
BW JOBS 4 GRADUATES
Changing lives•Giving hope