Employment
Vacancy-Community Health Worker In Malaria Project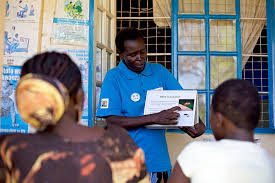 INVITATION TO WORK AS:
COMMUNITY HEALTH WORKER IN MALARIA PROJECT
Humana People to People Botswana is a locally registered Trust
MISSION: Through the implementation of projects to empower people with tools, knowledge and skills to foster own development in their own households, communities and the nation.
From 2001 to 2005, HPP-Botswana implemented the Total Community Mobilization (TCM) program and since then the HOPE Humana program as an integrated part of the country's national HIV & AIDS response.
HUMANA is seeking the services of Community Health Workers from communities in the North East District with the following qualities:
1. Having completed BGCSE
2. Excellent communication skills.
3. Passion for working for your community and willing to move house to house.
4. Excellent interpersonal skills.
5. Ability to communicate effectively in English and Setswana, both in written and verbally
6. Experience in establishing and maintaining good relationships with a wide variety of professionals and organizations.
7. Resourceful in facilitating solutions to problems
10. Experience in working in community mobilisation.
Key Responsibilities;
1. Health education on preventive methods in communities where malaria is a threat for behaviour change.
2. Community mobilization for health services or events to effectively deliver outreach services especially proactive malaria screening.
3. Immediate referral will be provided by CHW to the nearest health facility.
4. Bridging the gap between distant health facilities and the community by providing primary health care at community level.
5. Community health workers keep a health profile of all individuals in the community and conducts visits to monitor patient's condition should it deteriorate through routine household visit
Deadline 25th June 2017
To apply please forward your application letter and copies of your educational certificate, C.V., O-mang and references, addressed to:
THE PROJECT LEADER,
P O BOX AD 595 ADD, KGALE VIEW, GABORONE
OR
HAND DELIVERY at the KGOTLA in the following villages: Mapoka, Moroka, Ramokgwebana and Jackalas No.1