Lifestyle
13 Tswana foods every Motswana should eat before they die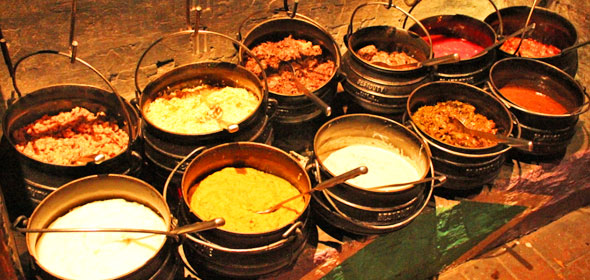 The markets of Botswana are filled with a large variety of foods. Some are grown locally using irrigation and some are imported from neighbouring countries. It is definitely safe to say, the food we have locally when cooked to par can give an impeccable experience and taste. From meats to veges, beans to beverages Botswana has a hand full to offer. Here is list of the best to put in that bucket list!
Phane: Mopane worms are a staple part of the diet in rural areas and are considered a delicacy in the cities. They can be eaten dry, as crunchy as potato chips, or cooked and drenched in sauce. It's called a mopane worm because it feeds on the leaves of mopane trees after it hatches in summer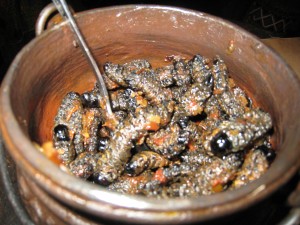 Morogo: Morogo is a group of African spinach that includes Lerotho, Thepe, Lephutsi, Delele, Nawa, etc. The leaves of these plants are edible and delicious.
Ditloo: These legumes are a great source of nutrients for most African nations and have been eaten for years. They are also considered part of the bean family and can hence be enjoyed as main meals or as yummy snacks and appetisers. Like beans, they take longer to cook and hence need to be soaked overnight in water to remove their gas that causes flatulence and thus make them easy and quicker to cook.
Lerotse/Lekatane: These are melons which are widely believed to have originated from Botswana, are abundant during the right season. These are usually used in various ways and to complement several local dishes. Other types of melons grow wild, particularly in the sandy desert areas and are an important water and food source for inhabitants of those areas.
Mogodu/serobe: The intestines and selected internal parts of a goat, sheep or cow are cleaned up and cooked (together with the trotters, in the case of sheep or goat). They are then chopped up into small pieces and cooked once again until they reach the right stage.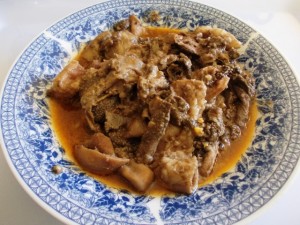 Dikgobe: The dish is a mixture of beans cooked with maize or sorghum or samp (processed maize). Other ingredients are salt, a bit of fat or oil. It can be taken with fresh milk or meat dishes.
Tswii: Tswii is sort of like a potato and that is usually mixed with meat/beef to add flavour to it.
Kgengwe: a common fruit  which also helps Basarwa with drinking water
Seswaa: also known as Chotlho, is the most popular traditional meat dish which is enjoyed in most ceremonies. Meat is cooked (by men usually) in three-legged cast iron pots, then chopped up with a sizeable wooden spoon until it is soft. Only salt and water are added to the dish and any other spices would be 'taboo'
Koko ya Setswana: The traditionally grown chicken is generally considered to be much better tasting than a commercially grown one. Cooking the traditional chicken for a visitor is a memorable demonstration of hospitality towards the person.
Madombi/Diphaphatha/Mapakiwa: matemekwane (dumplings), mmasekuku (firewood cooked), diphaphatha (flat cakes), and magwinya (fat cakes) are common tswana breads. In each case, bread flour is prepared into a dough which is divided up into sizeable cake portions which are then cooked. Each dish will take a different name, like those above, depending on the style of cooking, such as boiling with meat, or in hot oil, baking in charcoal or firewood, and the shape of the cakes.
Ginger: A non-alcoholic home-made drink, Ginger, is a national favourite which is used a lot in big ceremonies such as weddings and funerals. The main ingredients are ground ginger, tartaric acid, cream of tartar and sugar, and it is usually flavoured with pineapple, raisins, or fresh oranges