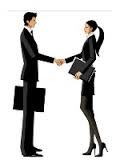 Going for an interview soon? Read below on ways to attempt various questions.
Q: why should we hire you? . Ans : IF YOU HIRE ME, IT WILL BE A GREAT PLATFORM TO SHOWCASE MY SKILLS. WHATEVER GOALS I SET,I ENSURE TO COMPLETE THEM WITHIN STIPULATED TIME. .
Q : reason behind leaving your last job? . Ans : IN ORDER TO ENHANCE MY SKILLSET,I'M LOOKING FOR BETTER OPPORTUNITIES. .
Q : why have you been unemployed for such a long time? . Ans : I ENROLLED MYSELF FOR SOME ADVANCED PERSONALITY DEVELOPMENT COURSE WITH SOME FREELANCE WORK. .
Q : tell me your ability to work under pressure? . Ans : I KEEP MYSELF CALM AND FOCUS ON MULTI TASKING WHILE BEING PATIENT. .
Q : describe your management style? . Ans : I WILL BE CONSTANTLY KEEPING TAB OF ASSIGNED WORK WITH MY SUBORDINATES AND SENIORS,FINISHING THE ASSIGNED JOB BEFORE DEADLINES. .
Q : are you a team player? . Ans : YES. THE TEAM WHICH I WAS A PART OF HAS SUCCESSFULLY COMPLETED THE PROJECTS WITHIN DEADLINES. .
Q : what irritates you about co-workers? . Ans : I BELIEVE IN TEAM-WORK.EVEN IF I FIND ANYTHING IRRITATING, I TRY TO AVOID IT UNLESS IT PERSONALLY AFFECTS ME. .
Q : how long would you expect to work for us if hired? . Ans : AS LONG AS I FEEL CHALLENGED PROFESSIONALLY. .
Q : how do you see yourself 5 years from now? . Ans : I SEE MYSELF IN A SENIOR POSITION MANAGING IMPORTANT PORTFOLIO OF THIS COMPANY. .
Q : do you consider yourself successful? . Ans : YES, APART FROM APPRAISALS I THINK I HAVE EARNED A BUNCH OF GOOD COLLEAGUES IN MY LIFE. .
Q : what is your weakness? . Ans : I CONCENTRATE ON ONE THING AT A TIME. . Q : what is your strength? . Ans : I'M A QUICK LEARNER AND A GREAT TEAM PLAYER. .
Q : what position do you prefer on a team working project? . Ans : IT DOESN'T MATTER TILL I LEARN SOMETHING NEW IN EVERY PROJECT. .
Q : do you have any questions for us? . Ans : WHEN CAN I JOIN? .