Lifestyle
10 Places In Botswana Everyone Must Visit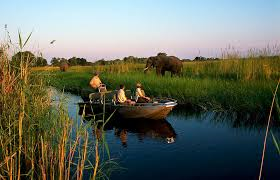 10 Places In Botswana Everyone Must Visit
Botswana has some of the most beautiful sites in the whole world.
1. Mmokolodi Nature Reserve; it is only a few minutes' drive from Gaborone so visiting the place shouldn't be a lot of trouble. Rhino tracking is a highlight at Mokolodi and one of the few places you can see white rhinos.
2. Bakhurutshe cultural village; this magical place offers accommodation in the form of traditional huts and or rondavels, traditional foods and dance.
3. Makgadikgadi pans; the place is famous for quad bikes safari and adventure. It has the largest Game reserves and national parks that occupy about 17% of the country.
4. Tuli block; It is a beautiful area with several rivers, riverside forests, savannah, and lots of massive baobab trees. Wildlife sightings are guaranteed year round.
5. Okavango delta the world's largest inland Delta and it covers approximately 15,000 square kilometers. This is one place that everyone should probably visit at least once in their lifetime.
6. Tsodilo Hills, probably the highest point in Botswana and it has over 3000 ancient San rock paintings and has been proclaimed a World Heritage site. The place is also not very far from the Okavango Delta, so one might just kill two birds with one stone.
7. Moremi game reserve; 4×4 safaris combined with water-based mokoro trips offers the best way to see the abundant wildlife. Wild animals are regularly spotted here, including the Big five. There are also a few camps within the park.
8. Chobe. This area has the largest elephant concentration in the world as well as some rich fauna and flora and abundant natural. You absolutely feel at peace when you are at this place.
9. Nxai National Park, it is one beautiful destination for a safari with its wonderful sand dunes, famous baobas and the salt pans that looks phenomenal when there is water that attracts beautiful birds and wildlife.
10. Khama rhino sanctuary; . Activities include game drives and walks to view the many animals that live in this area. Khama Rhino Sanctuary is an excellent option for a self-drive safari.