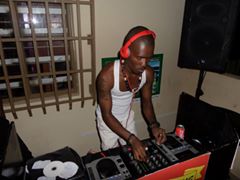 10 Questions To With DJ Saot Da Toas
He is relatively new in the music industry but DJ Saot is already making a statement and is a force to be reckoned with on the decks. We are chatting to the down to earth gentleman today to get to know him better.
1. Tell us a bit about yourself? My full names are Samuel Saot Otisitswe born 27 years ago in Serowe.
2. Well, when and how did you decide to become a DJ? I have always loved music and the idea of mixing and I decided to take my love for music a little more serious when I was 21 back in 2008.
3. I understand that besides deejaying, you are also a 'civil servant', how do you balance the two jobs that both require a lot of travelling? Not necessarily, I make sure each one of my jobs don't suffer because of the other. I understand my responsibilities and balance them quite well.
4. Your single inhliziyo yam that you released in 2014 how was the reception? People loved the song very much, I was really humbled. A lot of show organizers even came and I have been getting a lot of bookings since.
5. When are you releasing your next single? My next single will be released end of this month it is called Far Away. I will be featuring Beat Movement of the hit song Ungowam.
6. Should we expect an album from you anytime soon? No, not now. I will release an album when the time is right; I still want to take the Saot brand to the people and become a household name. For now it will be just singles.
7. So you have a slot on Gabz Fm, how did that come along? They heard my single and offered me to play an hour's mix every Saturday and Sunday at 3am.
8. Who is one of the music legends you would love to work with? Dj EasyB
9. What do you think of our local music industry? It is not easy but I think we will get there. It is growing and there are a lot of artists these days producing quality music.
10. Where do you see yourself in the next 3 years? I believe I would have reached international standards by then as a lot of artists both in Botswana and internationally have shown a lot of interest in working with me.