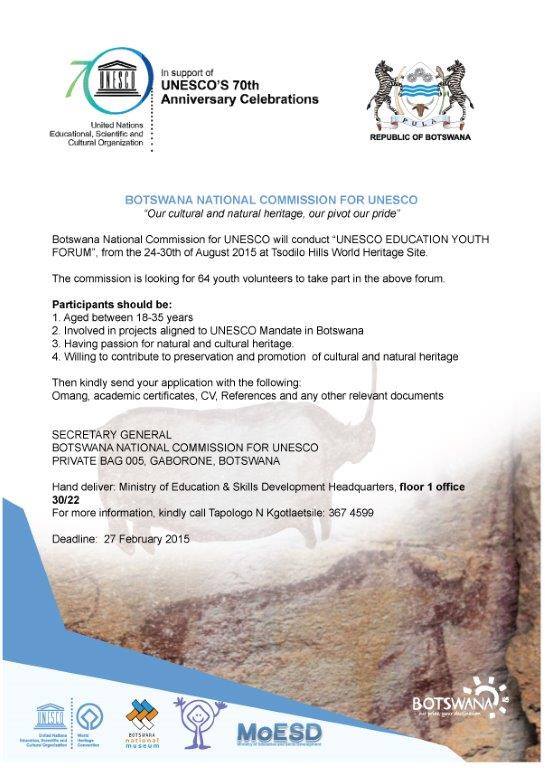 ABOUT UNESCO EDUCATIONAL FORUM TO BE HELD AT TSODILO HILLS HERITAGE SITE ON THE 24-10 AUGUST 2015
The UNESCO Educational Forum came about as a result of dire need of active participation by youth in pursuing/promoting and strengthening the implementation of UNESCO 1972 Convention and UNESCO mandate in Botswana. Botswana National Commission for UNESCO Youth Committee has observed that:
1 Botswana Youth is not actively involved in dealing with World Heritage Education issues.
2 Botswana Youth is not aware of and or fully appreciate what UNESCO is all about.
3 Botswana Youth has not been actively participating in UNESCO driven initiatives
4 For a country with high youth unemployment rate, our youth is yet to explore socio-economic benefits that come through the UNESCO
The initiative will entail selecting 64 youth participants who are going to be chosen across sectors for a 5 days camp which will be held in Tsodilo Hills in the 24th -30th August 2015 and the core activities to be covered will include the following aspects:
Capacitating youth of Botswana on World Heritage
Sensitizing the Youth about UNESCO, its mandate and role of Youth in UNESCO mandate.
Outdoor activities within Tsodilo Hills for the participants to appreciate the site.
Impart the youth with the key leadership skills that they shall use after the camp to advance UNESCO mandate and in the process develop their communities.
Sensitize and train potential youth leaders who will drive UNESCO initiatives, after the forum, in their respective regions.
SO KINDLY APPLY TO GET TO KNOW MORE ABOUT WORLD HERITAGE SITE IN BOTSWANA AND GLOBALLY!