Features
Nomina gives journalists a taste of good music from Germany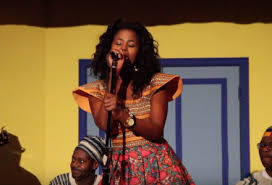 Nomina, a Motswana musician based in Germany gave a thunderous piece of music on her media launch presentation last week Thursday at the Mkop Restaurant in Gaborone.
Journalists from leading media houses in the country together with other musicians thronged in style and poise the Riverwalk based restaurant for the launch. The diner's young faced attendants provided drinks before the event could commence while stand-up comedy kept the early birds amused as they gulped on their beverages.
The "Mama Land" hit maker born in Zimbabwe and raised in Botswana's capital Gaborone was last to arrive with the audience applauding as she made her way in with her German manager Stefen Lembert.
The German based Nomina offering a mix of R&B, Pop and Reggae gave the sceptics a taste of their own medicine when she delivered a self-written composition of "Be patient Africa, your day will come" as the audience chanted along, a song Nomina said intends on showing the beauty of Africa.